8
minute read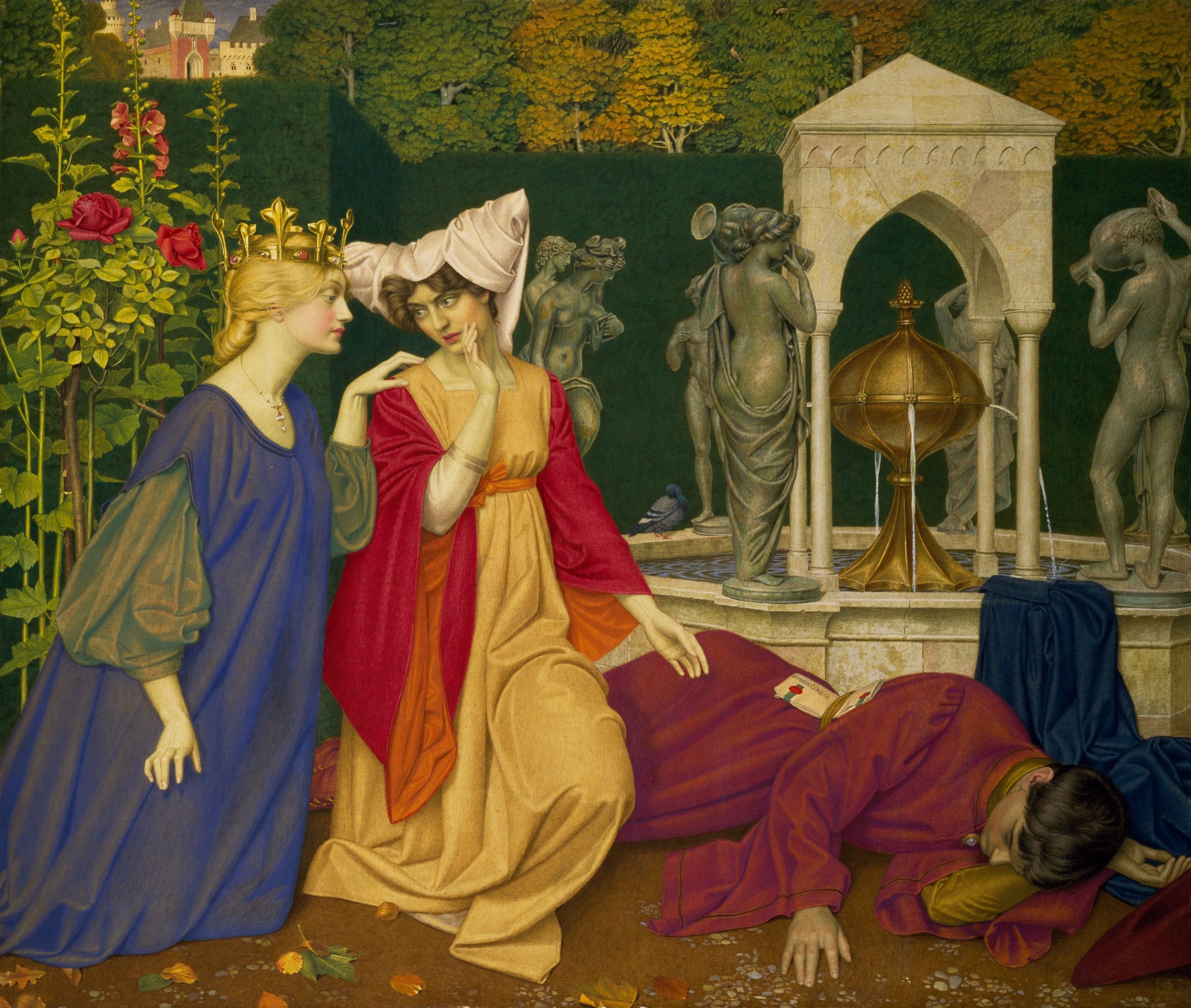 When we were in high school, my friends and I had a tough history teacher, whom I'll call Mr. Smith. One day as we rode the bus back from a band competition, we vented about our latest grievance against him, sparing no mercy in detailing our dislike. As we went on (and on), our director, who was sitting in front of us, turned around and said, "I don't want to know what you all say about me when I'm not here." Shame washed over me like a heatwave, and I wanted to throw up.
That night I struggled to sleep. I thought about all of the possible reasons I spoke harshly about Mr. Smith, trying to convince myself that I was being melodramatic. It was a only few careless, unkind words, and they probably never made it to his ears. And even if they did, I was a senior in high school, neck-deep in college decisions, term papers, and standardized tests. If I needed a place to let off steam, gossip seemed among the more innocuous. But all of my attempts at justification failed, and three days later–it took me that long to muster the courage!–I found myself making an awkward and bumbling apology to my band director for gossiping about his colleague.
Gossip affects all of us—regardless of whether we are the ones gossiping, the subject of gossip, or both. It can have catastrophic results on all sides, including physical and mental injuries, damaged reputations, and ruined relationships. As Blaise Pascal, a 17th-century French polymath, once quipped,
I lay it down as a fact of life that if all men knew what others say of them, there would not be four friends in the world.

Blaise Pascal, Pensees (1658)
But if gossip is so prolific and pernicious, what can we do about it? To answer that question, I began to study what the Bible says about gossip.
Understanding Gossip as Sin
The Bible shows that gossip is a sin in its first few pages. In Genesis 3, a serpent speaks to Eve in the garden. Here's the account:
Now the serpent was more crafty than any other beast of the field that the Lord God had made. He said to the woman, "Did God actually say, 'You shall not eat of any tree in the garden'?"And the woman said to the serpent, "We may eat of the fruit of the trees in the garden, but God said, 'You shall not eat of the fruit of the tree that is in the midst of the garden, neither shall you touch it, lest you die.'" But the serpent said to the woman, "You will not surely die. For God knows that when you eat of it your eyes will be opened, and you will be like God, knowing good and evil."

Genesis 3:1-5 ESV
Notice the first words of the serpent: Did God actually say? The serpent uses this question to cast doubt on what God is saying. Then, he goes on to suggest that God is a liar and that his motivation for preventing Adam and Eve from eating the fruit is self-protection. The serpent slanders God's identity, character, and faithfulness and thus leads Eve into the first human sin.
Words for Gossip
The original Greek of the New Testament reveals an even more direct connection between gossip and sin. There are two particular phrases that stand out: slanderer and doing evil with words.
Slanderer
Diabolos (διάβολος) is used to refer to the adversary and is translated devil in 34 places in the New Testament. This is the case in Matthew's account of Jesus's temptation in the wilderness:
Then Jesus was led up by the Spirit into the wilderness to be tempted by the devil (διαβόλου).

Matthew 4:1 ESV
This usage occurs in many places in this passage (Matthew 4:5; 4:8; 4:11; 13:39; Luke 4:2; 4:3; 4:5; 4:13). In addition, this word describes the devil during the Last Supper:
The devil (διαβόλου) had already put it into the heart of Judas Iscariot, Simon's son, to betray him.

John 13:2 ESV
The adversary—diabolos—puts it into Judas's heart to betray Jesus, which ultimately leads to Jesus's crucifixion and Judas's suicide (Matthew 27:5-8). The diabolos does all that he can to destroy Jesus's work.
Paul uses this same word—diabolos—to describe those who engage in gossip. In these instances, it is not translated as devil, but instead slanderer:
Their wives likewise must be dignified, not slanderers (διαβόλους) but sober-minded, faithful in all things.

1 Timothy 3:11 ESV
But understand this, that in the last days there will come times of difficulty. For people will be lovers of self, lovers of money, proud, arrogant, abusive, disobedient to their parents, ungrateful, unholy, heartless, unappeasable, slanderous (διάβολοι), without self-control, brutal, not loving good…

2 Timothy 3:1-3 ESV
Older women likewise are to be reverent in behavior, not slanderers (διαβόλους) or slaves to much wine. They are to teach what is good.

Titus 2:3 ESV
That the same word is used to describe the adversary and gossipers emphasizes the seriousness of gossip. John Robinson, a Puritan pastor whose congregation sailed on the Mayflower in 1620, puts it this way in New Essays; Or, Observations Divine and Moral (1624):
Slanderers of any others may rightliest be called devilish, seeing the devil hath his name of slandering.

John Robinson, New Essays; Or, Observations Divine and Moral
When we gossip, we partake in the nature of the adversary.
Doing Evil with Words
Perhaps the clearest description of gossip in the Bible is literally translated as doing evil with words (ποιεῖ λόγοις πονηροῖς). It comes from 3 John, which reads:
I wrote something to the church, but Diotrephes, who loves to be first, does not welcome us. For this reason, if I do come, I will call attention to what he is doing. He is disparaging us with wicked words (ποιεῖ λόγοις πονηροῖς), and he is not content with that…

3 John 9-10 ESV 
Gossip is willful engagement in evil–it is using words to harm another person, which is evil. When we gossip, we come against God, his people, and his purposes, allying ourselves with the adversary, who seeks not only God's destruction but ours as well.
The Spiritual Effects of Gossip
The ultimate effect of gossip is separation from God. James puts it this way:
If anyone thinks he is religious and does not bridle his tongue but deceives his heart, this person's religion is worthless.

James 1:26 ESV
If we gossip repeatedly and unrepentantly, our religion is "worthless," meaning that we do not have a relationship with God that transforms the way we live. Matthew Henry, a 17th-century English minister and author writes,
The man who has a detracting tongue cannot have a truly humble gracious heart. There is no strength nor power in that religion which will not enable a man to bridle his tongue.

Matthew Henry, Bible Commentary (on James 1)
Later in his letter, James gives us powerful imagery to emphasize the irony that is a gossiping Christian:
…[N]o human being can tame the tongue. It is a restless evil, full of deadly poison. With it we bless our Lord and Father, and with it we curse people who are made in the likeness of God. My brothers, these things ought not to be so. Does a spring pour forth from the same opening both fresh and salt water? Can a fig tree, my brothers, bear olives, or a grapevine produce figs? Neither can a salt pond yield fresh water.

James 3:8-12 ESV
Gossip introduces an inevitable internal conflict in the Christian's spirit. God pays attention not only to the words that we speak to him but also to the words that we say about his creation. Every word we speak is unto him—not merely the ones we intentionally address to him. But, if that is true, and gossip really is evil, why do we gossip in the first place?
Why do we gossip?
Gossips exists because we get something from it. Proverbs picks up on this, suggesting that gossip is first like a delicious morsel:
The words of a whisperer are like delicious morsels; they go down into the inner parts of the body.

Proverbs 18:8 ESV
The tidbits—"delicious morsels"—are other people's troubles and pains that we enjoy hearing about. Charles Spurgeon puts it this way:
If there were no gratified hearers of ill reports, there would be an end of the trade of spreading them.

Charles Spurgeon, The Treasury of David, Psalm 15.
But what is it that gratifies us? What is wrong with our hearts that we delight in an ill report? There is something about gossip that makes us feel better than other people, as if we are lifted up by other's faults. Because of this, we enjoy pronouncing a judgment on another person, forgetting all of the judgments that might be pronounced against ourselves.
We see an instance of this in Numbers. When Moses marries Zipporah, a foreigner, Miriam and Aaron speak out against him, saying,
"Has the Lord indeed spoken only through Moses? Has he not spoken through us also?"

Numbers 12:1-3 ESV
Moses does not do anything in response. He does not gossip about them in turn; he doesn't even ask God to vindicate him.
But God is quick to respond, and he "suddenly" meets the three of them outside in a pillar of cloud and calls Aaron and Miriam forward (Numbers 12:4-5). He rebukes them harshly, finishing with this rousing question:
"Why then were you not afraid to speak against my servant Moses?"

Numbers 12:8 ESV (second half)
When God leaves, Miriam becomes leprous (Numbers 12:10). Aaron asks Moses to petition God for her healing. Moses does, praying:
And Moses cried to the Lord, "O God, please heal her—please."

Numbers 12:13 ESV
God heals Miriam but requires that she leave the camp for seven days (Numbers 12:14). Her sin stalled Israel on their path to Canaan.
Miriam and Aaron felt like they had to tear down Moses to be important, seen, or heard. They were not secure in their value before God, and this lack ultimately manifested in gossip. Their insecurity and unbelief led them into sin. In contradistinction, Moses was secure in his value before God and did not even defend himself when he was spoken against. Instead of sinning, Moses petitioned God to remove the consequences of Miriam's sin, her leprosy. We see from their story that gossip has its roots in something much deeper–knowing our value to God.
Our Value to God
How we perceive our value to God directly correlates with our propensity to gossip. Our beliefs dictate our speech, and the end of gossip begins with answering these questions honestly:
Do we believe the words of Jesus that we are "worth many sparrows" and that God knows "the number of hairs on our heads" (Matthew 10:29-31)?
Can we say with Jeremiah that we believe that God delights in knowing and understanding us (Jeremiah 9:24)?
Do we believe that God's love for us is truly unimaginably great (Jeremiah 31:3; John 3:16; Galatians 2:20; 1 John 3:1)?
If you're like me, you answer yes in your mind, but your heart is slower to concur. Sometimes, I feel valuable to God until one of my prayers isn't answered. Other times, I feel that God delights in knowing and understanding me until I sin…yet again. And sometimes I believe that God's love for me is really big, but then I see other people who have better job positions, more education, and more things that I want, and I feel invisible.
But the beauty of the gospel is that God's value for us isn't based on a feeling. It's based on a crucifixion and, three days later, a resurrection. If we need to know how much the Lord values us, delights in us, and loves us, we need only to look at the cross, where our redemption was bought with Jesus's life. And when we feel doubt creeping into our hearts, are tempted to gossip, or weighed down by shame after gossiping like I was, we can make a beeline to the cross, where the slanderer himself was defeated, and where our tongues, instead of tearing others down, can rejoice in our eternal redemption and the love of Jesus Christ.
© Olivia Davis 2020, all rights reserved