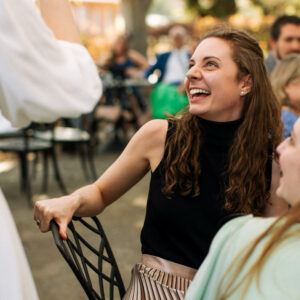 Olivia Davis writes to help people discover the love and majesty of Jesus Christ. Her writing has been featured by The Gospel Coalition, Challies.com, Just Thinking magazine, and more.
Olivia is a writing coach and provides editing and writing services on a contractual basis to individuals and organizations. She is the Director of Marketing and Communications at Help The Persecuted, a ministry that rescues, restores, and rebuilds the lives of persecuted Christians across the Middle East, Central Asia, and North Africa. She has written for a variety of organizations both secular and Christian, including Mully Children's Family; Stand For Life; Help The Persecuted; Ravi Zacharias International Ministries; Lighten Group; Media Gratiae; ProFellow; Soulheart; Notion Digital; and more. You can see many of their testimonials and reviews below.
She has an English degree from the University of Mississippi, which she attended on scholarship as a National Merit Finalist. She has minors in Chemistry, Music, and Classics, graduating magna cum laude and Phi Beta Kappa. Her honors thesis looked at meaning and atheism in the novels of Ian McEwan. She was a Fulbright Scholar to Athens, Greece in 2017-2018.
When not writing, Olivia plays the piano, flute, and cello, draws pencil portraits, and spends time with her family and her beloved church in Atlanta, Georgia.
If you would like to collaborate, please email [email protected] or reach out on LinkedIn.
Writing Samples: Christianity and Theology
What Can Make Me Whole Again? *this piece was featured by Tim Challies
Waiting on God
My Broken Engagement *this piece was featured by The Gospel Coalition in their "around the web" section and by Tim Challies
Am I Supposed to Change the World?
God, Do You Still Love Me?
A God Who Weeps
A Necessary Extravagance
At Magic Reservoir
Drawing Hudson Taylor
To the Heavy Laden
At the Watering Hole
A Compassionate High Priest
What I Learned in Honors 102
Hope After Eden
An Identity in Christ
When Hope Is Hard
Not Good Enough: Taking Feelings of Unworthiness Captive to the Gospel *this piece was published at Looking Upward and later picked up by Ravi Zacharias International Ministries and published in their quarterly literary magazine, Just Thinking
Is God Faithful, Even Here?
What is the Will of God for Your Life?
The Opposite of Fear: Resting in the Character of God
What Does the Bible Say About Gossip?
Greater than Happiness: Joy in the Lord
A Holy Preoccupation: Worship
Rejection: The Biblical Response
When God Seems Silent
Writing Samples: The Persecuted Church
God Rescued Daria from a Life of Despair
Safe Houses: Places of Discipleship
Spiritual Retreats: Fellowship for Persecuted Christians
Enduring Livelihood Grants Rebuild Lives: Nathir's Story
Writing Samples: Digital Media, Copywriting, and Design
Content Strategy: The What + Why Behind Website Copy
5 Tips on Creating a Positive Culture with a Remote Team
7 Tips for An Effective Email Newsletter
6 Steps to Creating an Effective Content Strategy
Improve Your SEO Rankings
3 Unscored but Essential SEO Components
3 Writing Tips for Next Level Blog Posts
Create a Cohesive Narrative
Feature Quality Content
3 Quick-Fix Design Mistakes
Writing Samples: Graduate School, Fellowship Applications, and Fellowship Experiences
3 Creative Ways to Improve Your Resume as a Recent Graduate
5 Tips for a Successful Fulbright ETA Semi-finalist Interview
3 Mistakes I Made When I Decided to Apply for Graduate School: A Writer's Perspective
5 Questions to Ask Yourself Before Applying to Graduate School
6 Tips For a Successful On-Campus Fellowship Interview
5 People Who Should Read Your Fellowship Application Before You Apply
7 Tips to Overcome Writer's Block When Applying to Graduate School
5 Tips for Writing Winning Application Essays
A Year of Traveling and Teaching in Athens, Greece: The Fulbright HAEF Teaching Fellowship
Copyediting
A Guide to Family Worship, Media Gratiae, 2020-21
Behold Your God Kids, Media Gratiae, forthcoming, 2021
Stephen McCaskell's Professional Blog, Watchful Dragons, 2020-2021
ProFellow's Series of Interviews with Former and Current Fellows, ProFellow, 2018-21
Dr. Vicki Johnson's Series of Articles on ProFellow, ProFellow, 2018-21
Numerous personal statements, essays, etc. for individuals—see testimonials below!
Testimonials
These direct quotes can be verified on my Upwork Profile or LinkedIn.
Olivia is without a doubt one of the best writers and editors I've ever worked with, to the point that I don't want to publish another thing without her watchful eyes doing a once-over. As both a writer and an editor, Olivia manifests the science and art of writing, perfectly combining grammatical and structural precision with artistic creativity and empathy. She creates her own impactful pieces while also helping others create theirs with clarity and beauty. Her exceptional productivity and timeliness in all these tasks are also of note. I am quite often amazed at how quickly she turns around very thorough and insightful edits to my work while also producing her own breathtaking pieces. I cannot recommend her highly enough! – Derek Caldwell, Lighten Group
Working with Olivia has been an absolute dream! She's excellent on all levels, does amazing work, and has a high level of professionalism. Highly recommend her for anyone needing her skills. She's extremely motivated and a great team player all around…Olivia is an incredibly dedicated professional and I highly recommend her for anything she sets her mind on. Not only does she have confidence in her craft, her approach to creating quality content has helped Soulheart grow our company and expand our products into a global market we didn't even realize existed for our platform. Olivia has brought A+ ideas and insight and has not just completed her job requirements, but she's also helped brainstorm and plan our overall business growth strategies. She's a great communicator and a team player and working with her has been an absolute joy. – Joshua Brown, Soulheart
There aren't enough words in the English dictionary to describe how wonderful and talented Olivia is. She goes above and beyond with each and every assignment I give her. Olivia has a positive attitude and has never missed a single deadline. She has excellent communication skills, and her work is very polished. Olivia returns beautifully crafted documents that are well written, cleanly formatted and her attention to detail really shines through. It's rare to receive content work that doesn't require additional editing, but with Olivia's work — it's the norm. Don't even think twice about hiring Olivia, she is an absolute rockstar! – Cindy Barry, Notion Digital
Fantastic! Olivia is always a pleasure to work with, and I would strongly recommend her to everyone! – Marc, Lesson With You
I just completed my master's degree online and there were a lot of papers. Each class had 2 or 3 and my grammar is horrible. Olivia proofread all my papers and helped me clean them up. She did a GREAT job. None of my papers came back with any grammar issues after I started using her to proofread them. She met or exceeded every deadline, was a pleasure to work with, and is a great editor. I don't think I would have been able to complete the degree without her help. I can't say enough good things about her and her work. I will be recommending her to anyone looking for an editor. – Master's student in education
Olivia did a phenomenal job and I would recommend her to anyone. She is an excellent writer but also has the ability to fully understand what is being portrayed in the writing so that she can enhance it. Five stars! – Fulbright English Teaching Assistantship applicant
Olivia worked with me on the developmental stages of my fantasy novel and then provided edits and comments for the trouble areas of my draft. What I love most about working with her is that her feedback is always actionable. She can pinpoint the weak areas of a draft or story AND give you clear ways to fix and improve those areas. I can't recommend her enough! – Kara J. Lovett, Kara J Lovett Co. (This one is not on LinkedIn or Upwork)
If you are interested in collaborating, please reach out!
© Olivia Davis 2023, all rights reserved